The graves of our de Chazal ancestors in Cassis Cemetery are in a poor state, specially the earlier ones. My son Claude has taken some photos. Would it not be appropriate to restore them? I suggest that this task could be entrusted to different members of the Tribe—-
ENGLISH TRANSLATION : CHRISTOPHER de CHAZAL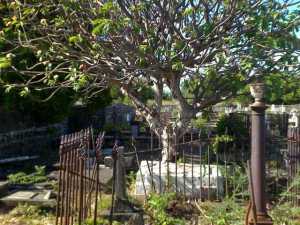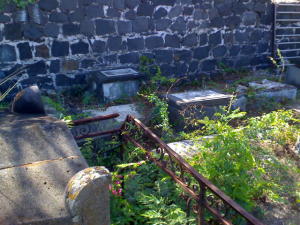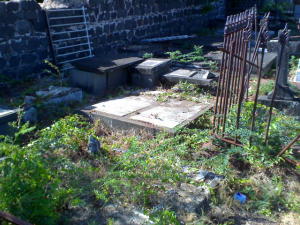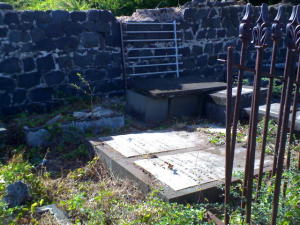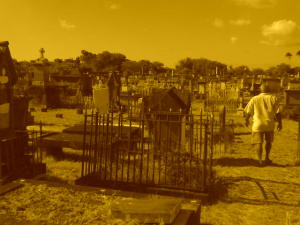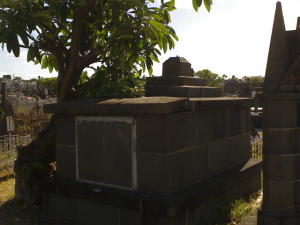 COMMUNICATION FROM CLAUDE BAISSAC
At the beginning of December 2006, leaving Port Louis, I lost myself in Cassis while trying to avoid the evening rush hour. Driving past the cemetery I remembered a conversation I had had, years before, with my mother Anne Baissac, daughter of Alix de Chazal. She had suggested that there may be some Chazal tombs lost in a forgotten corner of that huge area. I stopped and found the small superintendent's office to ask if there were any Chazal graves in the cemetery. The young Indian who was then in charge referred me to a particular grave digger who was known for his intimate knowledge of the nooks and crannies of the place.
This man came and took me across the cemetery, firstly to the tomb of Pierre Edmond, my great, great grandfather. This was like a vault. It is a massive edifice, made from cut stone. Beside it is a tree, the roots of which have cracked the stone. At one time there must have been a head-stone with an inscription on it.
We were then directed towards the rear of the place. There, bordering the eastern wall, we found a series of graves quite close to each other but in no particular order, not set out as a modern cemetery. The tombs were all covered in creeper, earth and wild plants. We cleared one at random, and discovered with amazement the last resting place of Tousaint Antoine de Chazal de Chamarel and his wife. We continued to clear the undergrowth and found other Chazal graves, one very small, of a child who had died at the age of only a few months. Some had their headstones cracked and were impossible to decipher. I was enchanted by this small corner, nearly two centuries old, with its trees and its long forgotten graves, where lie the remains of people who were living during the French Revolution when Mauritius was still known as the "Ile de France"; when its population was only tens of thousands, lost in the oceans on the route to the East Indies. I was touched by this, and wanted to share it with you.
Translators Note:
I am sure I speak for all of us in saying thank you to Claude for sharing this experience with us. It is a very important part of our heritage which has been found and should be preserved.
Claude's relationship with the deceased is as follows:
Claude>Anne>Alix>Marc>Pierre Edmond (who married his first cousin Lucie)>Furcy>Toussaint Antoine. This makes Toussaint Antoine, Claude's Great-Great-Great-Great Grandfather through both Pierre Edmond and Lucie.
Message Added: January 9, 2007